How Do I Become a Chiropodist?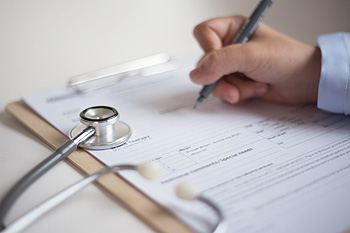 The goal of a chiropodist is to keep the feet healthy. This type of medical professional treats conditions of the feet including ailments such as bunions, hammertoe, and corns. People who decide to pursue this type of career will need to complete chiropody training. This involves completing five courses that are known as GCSE's or General Certificate of Secondary Education, biological science, in addition to math and English courses. This is followed by receiving a diploma in foot health practice and registering with the Health and Care Professions Council also known as the HCPC. The hours may vary in a chiropodist's average day, and this may depend on where the visits take place. In private practice, the office may be open during the evening hours, which helps accommodate patients' needs. If you would like more information about how to become a chiropodist, it is advised to confer with this type of professional who can address any questions you may have.
If you have any foot or ankle concerns, contact one of the chiropodists of The Footcare Centre. Our chiropodists can provide the care you need to keep you on your feet.
A chiropodist is a healthcare professional that specializes in the feet, ankles, and lower limbs. With the amount of work the feet do in a lifetime, the whole body works better if the feet are properly supported. Chiropodists must have a bachelor's degree in science and complete a three to four-year chiropody program. They can then work independently or as part of a team. Chiropodists are like podiatrists, the only difference being the country they obtained where they obtained their degrees. The field can be called podiatry in the United States and chiropody elsewhere. A chiropodist is a popular term for this profession in the UK and Canada. Chiropodists treat a variety of foot problems from corns and calluses to fungal infections. Some also offer orthotics. They might provide a variety of foot therapies, injections, and surgical procedures. Normally one sees a chiropodist when they are experiencing pain but visiting one regularly, as one would a dentist, can help ensure the feet are in top form and help prevent future problems. If you suffer from foot or ankle pain or have questions about your lower extremities, book an appointment with a chiropodist today.
What Does a Chiropodist Do?
A chiropodist helps people with problems with their feet and ankles with the goal of making their lives more comfortable. A chiropodist takes care of blisters, corns, bunions, cracked heels, nail problems, and sprained ankles, just to mention a few things that can go wrong with our feet. A chiropodist will take your medical history and examine your feet for blood circulation and any other problems going on. They will watch you walk and how you move when you walk. They will discuss any findings they come up with and discuss a treatment plan with you.
What Does It Take to Become a Chiropodist?
Chiropodists must have seven to eight years of post-secondary school before beginning to practice. They must obtain a bachelor's degree in science and complete a three-to-four-year chiropody program. Chiropodists work independently or as part of a team.
If you have any questions please feel free to contact our office located in Niagara Falls, ON . We offer the newest diagnostic tools and technology to treat your foot and ankle needs.
Read more about Chiropodists