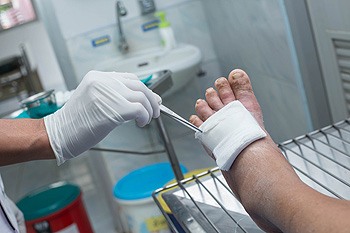 Anyone with diabetes may be at a higher risk of developing foot ulcers. They are usually caused by sores or wounds that do not heal properly and spread beneath the skin to the soft tissue and muscle sheaths below. A diabetic who has developed peripheral neuropathy often loses the feeling in the toes and feet. Because a sore or minor cut can't always be detected, particularly if it is on the bottom of the foot, it may form an ulcer. Symptoms of diabetic ulcers include discoloration of the skin or toenails, pain and redness, swelling, pus or fluid discharge, and a foul odor coming from the foot. The most common treatment is debridement, a process that removes dead tissue. It is strongly suggested that you not do this on your own, but consult a chiropodist, who can conduct the process in a safe and hygienic way. Afterward, you may be directed to wear special shoes or use crutches or a wheelchair until the wound heals completely. It is also suggested to avoid walking barefoot and make sure the wounded area is kept clean. 
Diabetes can cause serious problems in the lower limbs if proper preventive measures are not taken and diabetic wound care is not performed. If you would like to learn more about caring for diabetic feet, please consult with one of the chiropodists from The Footcare Centre. Our chiropodists can help you maintain the health of your lower limbs and your mobility. 
Diabetes can lead to a host of foot and ankle complications, including: 
Poor circulation

Peripheral neuropathy

Diabetic foot wounds and ulcers

Infection 

Corns and calluses

Dry, cracked skin

Nail disorders 

Hammertoes 

Bunions

Charcot foot
If you have diabetes, you must be vigilant of any changes in your foot health. This is best done through daily foot inspections. Using a mirror to help you if necessary, look for any: 
Cuts, scrapes, sores, or wounds

Bruising or discoloration 

Swelling

Rash

Foul odor

Nail changes 

Hair loss 

Warmth and inflammation

Deformities 

Lower limb pain

Strange sensations (numbness, tingling, burning, pins, and needles)
If you detect anything unusual, seek the care of a chiropodist as soon as possible. If you have any questions, please feel free to contact our office located in . We offer the newest diagnostic and treatment technologies for all your foot care needs.
Read more about Diabetic Foot Care