Orthopedic Shoes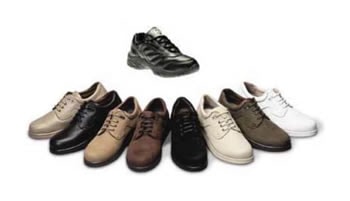 Orthopedic shoes may be suitable for arthritis, diabetes and painful foot conditions.
Trying shoes with the right width and depth fitting for the first time, you really notice the added comfort they offer.
For footwear to be considered orthopedic, it must follow certain criteria as outlined below:
Full instep adjustable closure. (e.g., buckles, laces, Velcro)
Torsional stability (e.g., stiff shank)
Heel counter, which provides stability or decreased pressure on the heel
Upper, size, shape, and materials to accommodate and protect the feet. May include features such as:

Soft, smooth, and protective interior lining
Stretch and/or heat mouldable upper materials to accommodate deformity
Extended openings

Outsole requirements:

Size and shape match or exceed the width of the upper
Material may provide greater stability, traction, or reduced friction
Conducive to permanent modification(s)

Last shape matches the shape of the foot and supports treatment plan
Rear-foot and forefoot rocker soles and/or toe spring to promote a natural gait cycle
Footwear must be provided by a qualified professional
Footwear selection must be justified as forming an integral part of treatment with supporting documentation
A foot specialist/chiropodist can recommend the appropriate shoes for your specific foot health needs.
Different sole shapes and materials can help cushion feet or are sometimes designed with stability or the ability to rock. Shoes with forefoot rockers can benefit those with forefoot pain or arthritic big toe joints.
Soft, shock absorbing rubber soles can make shoes ideal for people with arthritic joints. Strong, stiff shoes with anti-pronation features can be better for people with flat feet.
Finding your chosen style in a variety of widths and depths, is important to find that true comfort fit. Removable insoles in many styles enable even more variability to accommodate difficult-to-fit feet, special insoles or custom foot orthotics.
Ask a foot specialist/chiropodist for fitting advice on styles with these attributes:
Shock absorbing soles
Supportive Shank
Heel Stabilizers
Padded Tongue
Padded Collar
Extra Depth
Extra Width
If you'd like more information about orthopaedic footwear and how it may be suitable for you, we suggest you consult with us for an assessment. Call us to book now.